THE CENOTAFIO
Monument to the Palladian Villas


Date Fall 2017
Location Manhattan, New York City, NY
Instructor Margaret Griffin (Griffin Enright Architects)
Publication KooZA/rch






MONUMENT OF THE EVOLUTION

The project was devised to construct a monumental entity to bridge the past and the present, capturing the evolution. Through modern construction techniques seen in contemporary skyscrapers, the cenotafio is erected to celebrate and commemorate classical residence.

German architect Mies van der Rohe in 1921 revealed his Friedrichstrasse Skyscraper Project, which sparkled the fervor for architects to build with modern technologies and modern materials, notable glass and steel. Rohe composed with reflections and refractions and created a crystal urban spectacle. As if a "geological eruption" occurred in the heart of an industrial metropolis, the tower was meant to be the celebration of modern inventions; however, the drawings implicate a different interpretation, rather abstract and archaic.

Inspired by Rohe, this project intends to emulate that affects and emotions. The design is an attempt to commemorate and translate the three wonders of architecture – classical villa, elevator, and skyscraper. The project proposes a contraindicative stance, becoming both a commendation and a critique of itself.
GENERATIVE PROCESS: ABSTRACT, EXTRUDE, STACK, CARVE OF THE PALLADIAN VILLAS
The volumetric system of Palladian villas acts as the basis for the formal executions.
From top to bottom: Villa Foscari, Villa Badoer, Villa Capra, Villa Carnaro
Iterative Process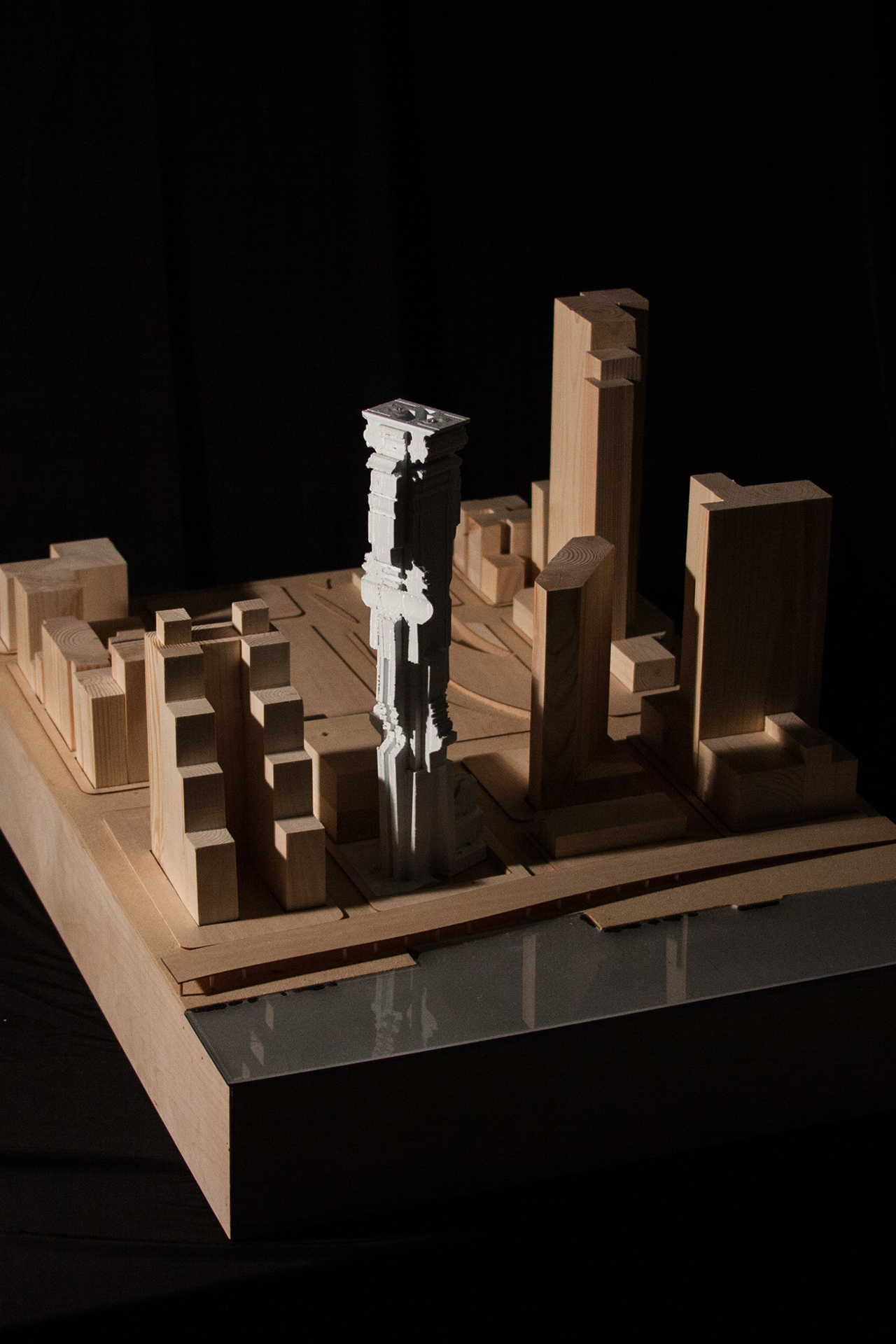 A
Leasing office
B
Building management
C
Package room
D
Meeting room
E
Private office
F
Mail room
G
Reception
H
Storage
I
Locker room
J
Mechanical
K
Restroom
L
Plaza
X
Lobby/Nave
Ground Level Plaza









Valley of Light
One enters through the front entrance, immediately finding herself embraced by a nave-like atrium. Forces carve from the solidness, creating openings to the outside world and thus through which light pours in. The plasticity of the surfaces allows light to flow poetically through the hall.
Reception Hall
︎︎︎ Back to Home
---
© 2017